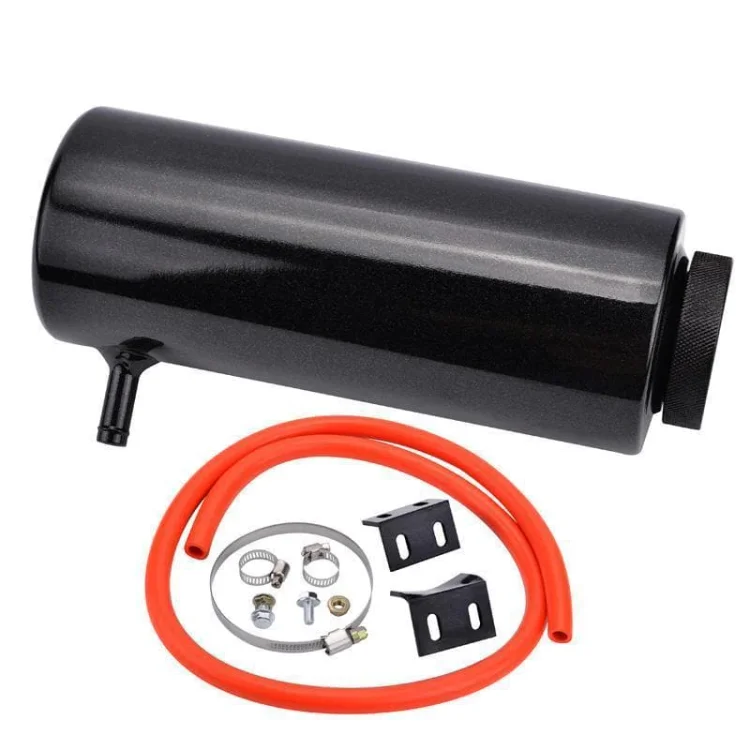 Installation instruction:
Easy to installed on the exhaust pipe of the original car and away from the heat source.
Fix it with a clamp and try to keep the whole pipeline in a vacuum state.
Prevent Coolant Leakage: Tight closed cap, Fully Tig Welded and Thread Come with O-ring Gasket, Keep a good closed environment and Prevent coolant leakage.
Prevent Rust: The radiator coolant overflow tank is fairly simple device but it can save you a lot of money by preventing rust formation in the cooling system of your car.
Keep Operational Temperatures: Radiator coolant overflow tank makes the engine coolant to keep it within the operational temperatures when the engine is running at its optimum performance.
Coolant Back Into Radiator: When coolant will start to cool down, it will contract in volume, a vacuum valve in the pressure cap opens allowing the coolant which was flown into the radiator coolant overflow tank back into the radiator.

Details and Specifications:
Fitment:

Universal fitment, fits for most brands of cars, such as BMW, Ford, Chevy, Honda, Toyota, etc.

Weight: 800g
Packing Size: 8*6.5*4.2inch
Capacity: 800 ml
Material: Aluminum alloy
Tank Color: Black/Blue/Silver
Round: 3inch
Height: 7.5inch

Features and Benefits:
Made of 6061 T6 Aluminum Alloy Material for Lightweight and Durability
Prevents leaks by helping relive pressure while increasing horsepower

Packing includings:
1 × Radiator Overflow Tank
1 × Cooling Hose
1 × Set of Mounting Accessories
As the pictures shown
NOTE:
Please confirm that there is enough space in the car to install the cooling pot.