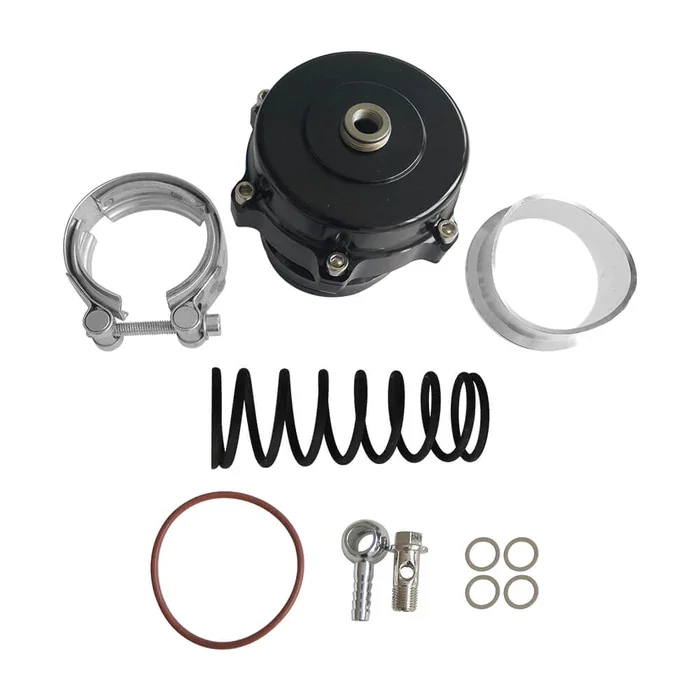 BOVs contain a valve that allows the pressurized air in your intake piping to vent to either the atomosphere, or back into the pre-turbo intake pipe when the throttle is closed --- greatly reducing the risk of damage to the turbocharger, or intake piping, because where else is all that compressed air meant to go? Without a BOV, compressor surge can be a real problem on older, worn-out turbochargers --- resulting in premature turbo failure.
Available in 2psi - 12psi Springs

Through countless hours of R&D we were able to make the same size valve flow a staggering 60% more than the original design - that means 60% more air is blown off per cycle! This is the highest flowing BOV on the market.

For use on turbo-charged and super-charged applications (Paxton, Vortec, etc.). The body and all internal components are CNC-machined from 6061 aluminum alloy. It features a large 1.98 in (50.5mm) valve; we believe this is the largest valve available with the highest flow capacity.

The V-Band design aluminum mounting clamp gives a very clean and unique appearance. The clamp is anodized and uses Stainless Steel hardware for a long lasting, corrosion-free appearance.

The valve seal utilizes a Viton O-ring that is clamped in place to prevent the possibility of sticking to the seat and pulling out. The valve stem and guide are Teflon-lubricated, hard anodize-coated for wear resistance.

The Blow Off Valve also comes with our own machined aluminum banjo-type air fitting and bolt, with over sized 10mm hose barb for quick actuator response. The actuator has a high temp silicone Nomex-reinforced diaphragm for long life.


A single Q BOV can support up to 1,800hp
Package includes:
Q Series BOV Assembly
TiAL V-band Clamp
V-band Weld Flange
TiAL Air Fitting
High-Pressure O-ring
Extra Spring
2psi spring is designed for supercharged application