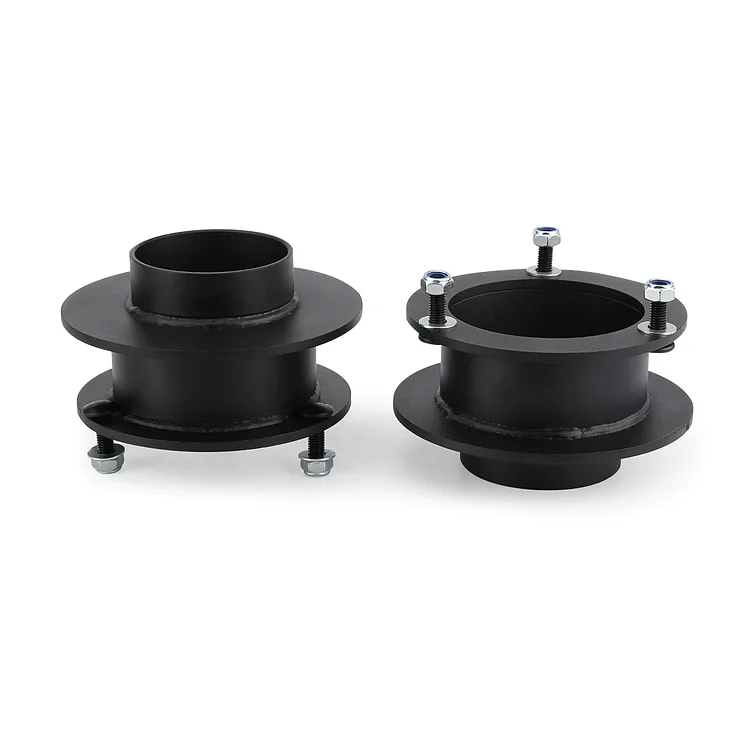 🚗Fitment:
1994-2001 Dodge Ram 1500 4WD

2003-2008 Dodge Ram 1500 Mega Cab 4WD

1994-2013 Dodge Ram 2500 4WD

1994-2012 Dodge Ram 3500 4WD
🚗Features:
Will Raise the Front of your Dodge Ram 2"/2.5"/3"

Powder Coated provides superior corrosion resistance

With high strength bolts for safer connection

Offers extra ground clearance to sue larger tires/rims

More easy with spring compressor if installed by yourself(Not must)

Professional installation recommended and algnment necessary

Instructions included
Front leveling lift kit for Dodge Ram 1500/2500/3500 are made from Heat Treated Carbon Steel for optimal durability and fitment..
It will come to you complete with all the hardware and clear instructions.Can be installed in about 1-1/2- 2 hours and does not require any special tools.
improve your lifted Dodge Ram 1500 suspension travel and performance,Gives your truck a noticeably aggressive.


1994 Dodge Ram 1500
1995 Dodge Ram 1500
1996 Dodge Ram 1500
1997 Dodge Ram 1500
1998 Dodge Ram 1500
1999 Dodge Ram 1500
2000 Dodge Ram 1500
2001 Dodge Ram 1500

2003 Dodge Ram 1500 Mega Cab 4WD
2004 Dodge Ram 1500 Mega Cab 4WD
2005 Dodge Ram 1500 Mega Cab 4WD
2006 Dodge Ram 1500 Mega Cab 4WD
2007 Dodge Ram 1500 Mega Cab 4WD
2008 Dodge Ram 1500 Mega Cab 4WD

1994 Dodge Ram 2500
1995 Dodge Ram 2500
1996 Dodge Ram 2500
1997 Dodge Ram 2500
1998 Dodge Ram 2500
1999 Dodge Ram 2500
2000 Dodge Ram 2500
2001 Dodge Ram 2500
2002 Dodge Ram 2500
2003 Dodge Ram 2500
2004 Dodge Ram 2500
2005 Dodge Ram 2500
2006 Dodge Ram 2500
2007 Dodge Ram 2500
2008 Dodge Ram 2500
2009 Dodge Ram 2500
2010 Dodge Ram 2500
2011 Dodge Ram 2500
2012 Dodge Ram 2500
2013 Dodge Ram 2500