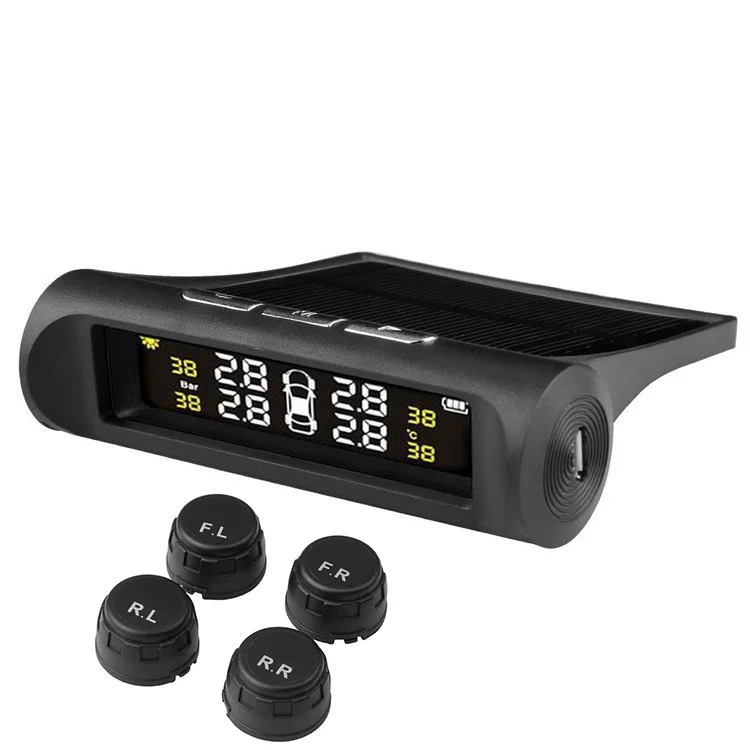 Solar LCD Car TPMS SP370 Wireless Tire Pressure Monitoring System with 4 Sensors
Features
Tire pressure alarm, wireless transmission; four wheel simultaneous monitoring on the color display
Prevent problems before they occur: prevent puncture and air leak to balance air pressure, save fuel, and reduce wear
With 4 external/internal sensors
External sensors
Easy to install
The battery life is about two years, and the battery can be replaced (installed on the valve core)
Anti-corrosion coating on the surface of the casing
Hexagonal nut anti-theft patent
Patented silicone integrated molding structure with unique external tire pressure sealing and ventilation to prevent air leakage
Internal sensors
The battery life is about five years, and the battery can be replaced (replace the original valve core, balance after installation).
Aeronautical road alloy gas nozzle
Quality battery
The casing is made of nylon chemical fiber to prevent corrosion
An adjustable angle link between the nozzle and the sensor ensures that the angle is adjusted to be flush with the edge of the wheel
Professional installation is recommended
Tire pressure sensor module working state
Because the tire pressure detection module is powered by battery, the battery life problem becomes a problem that needs to be considered, especially in software design. The low-power algorithm implementation should be carefully designed and can be roughly divided into the following states:
Storage status: The system is in an unused state and it should enter deep sleep mode
Transportation status: The detection module has been loaded and is not actually used during transportation.
Parking status: Activated and started working, but stopped at this time, the speed is 0
Driving status: Through the acceleration sensor, the speed change is detected, the running state is entered and the tire pressure, tire temperature, speed, etc are detected.
Low voltage status: If the battery voltage is too low, continuing to work will cause the related functions not to work properly, and a warning will be issued.
Leakage condition: A tire leak is detected by continuous inspection, and a warning is issued.
Feature
High-efficiency solar panel, superior long duration capability
Large-capacity built-in metal lithium battery
Accurate monitoring of tire pressure stability values all the way
High precision LCD display
Large volume alarm sound alert
A variety of tire pressure units are available
Long receiving distance with stable signal
Support tire position interchange
Function
Real-time monitoring: The tire\'s pressure and temperature status can be monitored regardless of whether the vehicle is running or at rest. The tire status is under control.
High pressure/low pressure alarm: When the tire pressure is higher or lower than the set value, the system will give an alarm.
Air leak alarm: The system will give an alarm if a foreign object penetrates into the tire and generate a leak.
High temperature alarm: When the tire temperature exceeds 80 °C, the system will give an alarm.
Ultra-low power consumption: Extremely optimized operating mode, system battery life is up to 5 years.
Specification
Sensor communication fault alarm duration: ≤10min
Battery model: CR2450HR (capacity: 550mAh)
RF frequency: 433.92±0.1MHz
No RF emission average operating current: ≤1μA
RF emission maximum operating current: ≤15mA
High frequency transmission power: 7~9dBm at 50Ω
High frequency modulation mode: FSK (9.6Kbps)
Low frequency receiving frequency: 125±5 KHz
Low frequency receiving mode: ASK (3.9Kbps)
Low frequency signal receiving sensitivity: 1~50mVp-p
Pressure measurement range: 0~3.5Bar
Pressure measurement resolution: 25mBar
Temperature measurement resolution: 2 ° C
Pressure measurement accuracy: ±75 mBar at -20°C~+70°C, ±150 mBar at -40°C~+120°C
Temperature measurement accuracy: ±4°C at -20°C~+70°C
Resistance to rotation: ≥1500g
Operating temperature range: -40 ° C ~ +105 ° C
Storage temperature range: -40 ° C ~ +125 ° C
Size: 90*75*25mm/3.54*2.95*0.98\"
Weight: 68g
Package Content
1 x Host
4 x Sensors
1 x USB Charging Cable
1 x Pack of Mounting Accessories
Notes
1. There may be slight size deviations due to manual measurement, different measuring methods and tools.
2. The picture may not reflect the actual color of the item because of different photographing light, angle and display monitor.