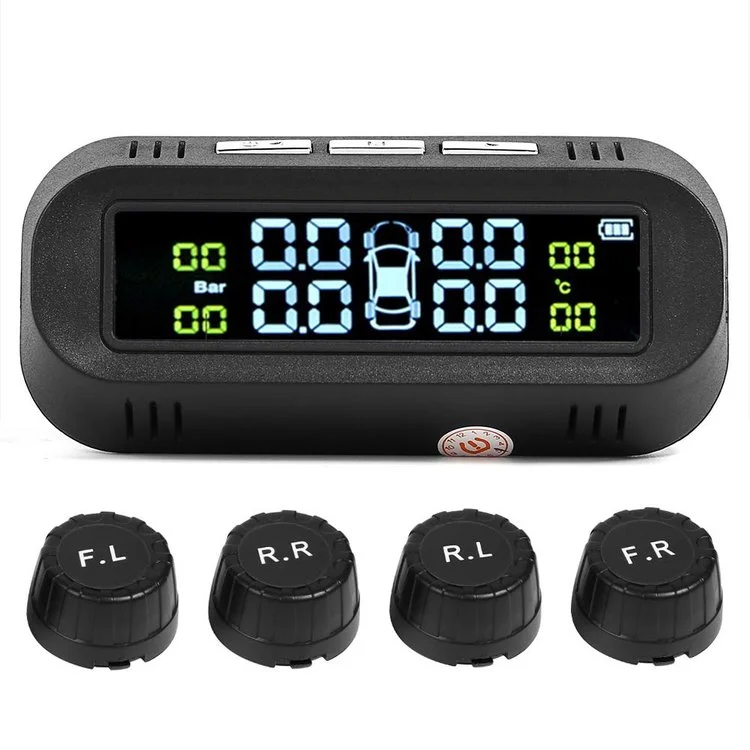 Tire Pressure Monitoring System is mainly used for real-time monitoring and alarming of information such as low tire pressure, high tire pressure, rapid air leakage, high tire temperature, and low battery voltage during car driving. The driver's effective information is to maintain sufficient tire pressure, prevent the occurrence of puncture accidents, increase the safety of driving the car, reduce the extra oil generated by the tire pressure, and extend the life of the tire.
The direct tire pressure monitoring system is equipped with a high-sensitivity sensor in each tire, which can monitor the pressure and temperature of the tire in real-time. After digital-to-analog conversion, the data is transmitted by radio signals to the display mounted on the bridge. Values and temperature values are displayed visually immediately. If the tire pressure is too high or too low during driving, the tire will leak due to any reason (such as foreign matter piercing the tire, or tire scratching...), and the system will automatically alarm immediately to ensure safe driving.
The TPMS wireless tire pressure monitor uses the world's top-line sensor chipset and has multiple wireless communication technologies, eliminating the need for additional repeaters. When the car is driving at high speed, the signal reception is accurate and can reflect the tire pressure condition most realistically and intuitively. It is currently advanced in technology and stable in performance.
Features
High-efficiency solar panel, super long battery timLarge-capacity
Large capacity built-in lithium battery, long battery life eonn in cloudy days
Fully accurate monitoring of tire pressure
High prLCD display
Large volume alarm sound alert
Multiple tire pressure units are available
Long-distance receiving distance, stable signal
Specifications
Sensor type: external
Air pressure setting range: 0.1~3.5BAR
Temperature setting range: 60 ° C ~ 90 ° C
Working temperature: -20 ° C ~ 80 ° C
Storage temperature: -30 ° C ~ 85 ° C
Power supply voltage: DC 5V
Frequency: 433.9200MHz ± 0.1MHz
Host size: 94*84*26.5mm/3.70*3.31*1.04"
Host weight: 60g
Sensor weight: 40g
Package Included
1 X Host
1 X Bracket
4 X External Sensors
1 X USB Cable
1 X Installation Kit
1 X Sticker
1 X Manual
Notes
1. There may be slight size deviations due to manual measurement, different measuring methods, and tools.
2. The picture may not reflect the actual color of the item because of different photographing light, angle, and display monitor.