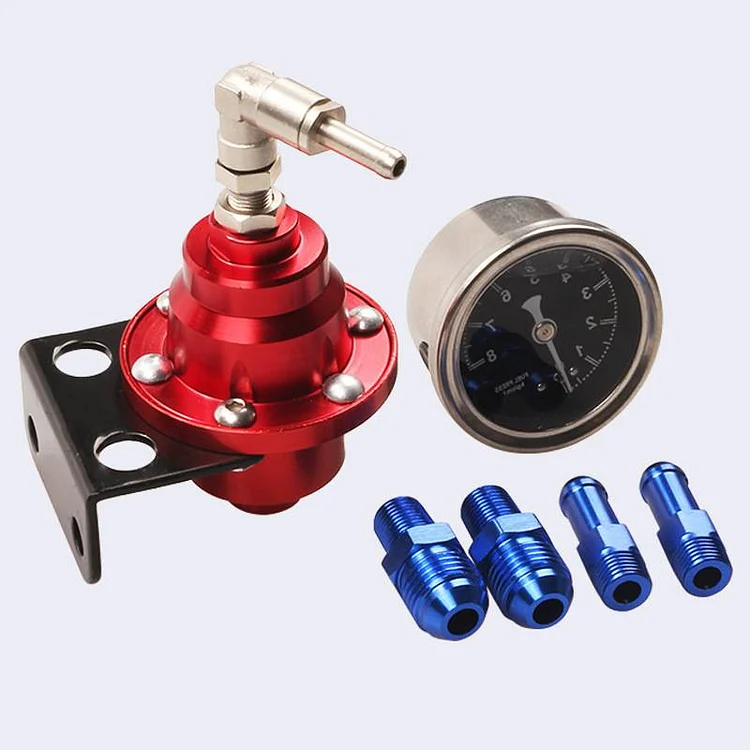 Blue 160psi Adjustable Aluminum Fuel Pressure Regulator w/Oil Filled Gauge
Most modern fuel injected vehicles run a fuel pump in the tank and run much more fuel than is needed for the fuel rail. A regulator keeps a certain amount of fuel pressure in the rail and then sends the rest back to the tank.
However, tuners upgrade the air intake system as well as the exhaust system and often neglect that more fuel is needed to make those mods perform at their full potential. This Fuel Pressure Regulator is adjustable so you can tune the fuel pressure to your needs.
Features
Adjustable from 0 psi to 160 Maximum Fuel Pump Capacity
Readings Range from 0-8 KG/CM_
Improves Fuel Delivery Efficiency and Prevents Fuel Starvation for More Consistent Boost and Fuel Flow
Designed to Maintain the Optimal Fuel Rail Pressure for High Performance/ Turbocharged Engine
Delivers Vehicles Highest Performance, with Long Life and Highly Reliable Operation
Oil-Filled Design Fuel Pressure Gauge for Maximum and Consistent Measurement
Adjustable Fuel Pressure Regulator with 1:1 Ratio
Made of CNC Machined Light Weight Aluminum Material
Comes with Bolts, Connectors, and Installation Kits
100% Brand New
Professional Installation is Highly Recommended (No Instruction Included)
Notes
100% Brand New
Professional Installation is Highly Recommended
Installation Instruction is NOT Included
Includes
1 x Anodized Aluminum Fuel Pressure Regulator
1 x Liquid Filled Gauge
4 x screws