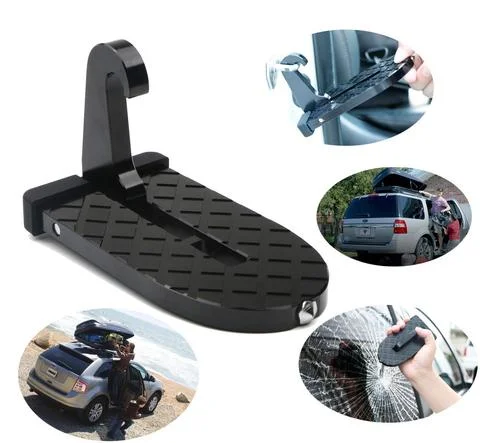 Reaching Your Car Roof Just Got Easy!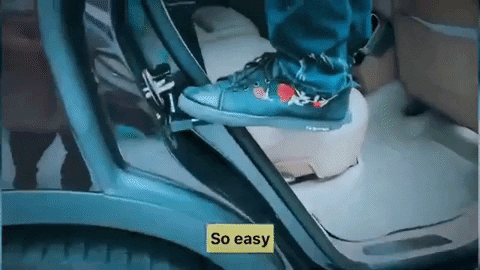 Roof steps give you quick and easy access to the roof of your car. Easy steps to climb to your roof! This latch step will help you reach or store large items easily on the roof of your car! At the same time, it is equipped with a safety hammer, the Multifunction Folding Auto Car Door Step is a strong tool to break car windows in case of emergency.
EASY TO USE AND POWERFUL
QUESTIONS & ANSWERS
Q: Will it scratch the paint my car paint?
A: It has a rubber pad to avoid damaging your vehicle.
Q: Does it work on the ford explorer and the ford escape?
A: All cars/trucks have the same loop-type latch for their doors. It'll fit y our Explorer and Escape.
Q: Will it break my car's glass in an emergency case?
A: Yes, this Multifunction Folding Auto Car Door Step has a safety hammer that you can use to knock your car glass in an emergency.
MADE FROM THE FINEST METAL
FEATURES
Patented Design - It can be used as a car pedal, and it is also easy to take the items on the roof and check the condition of the roof.

Safety Hammer Design provides you with a powerful tool for survival in case of an emergency.

Support Up To 400 Pounds: it can support up to 400 pounds for access to car rooftop or rack, no problem for big guy handling bulky items

Compatible Design - It is big enough to fit all sizes of feet. The non-slip design provides solid and secure support for you standing on the doorstep, compatible with all kinds of SUVs or RVs.

The product has an anti-collision strip, and the hook on the trailer sticks to the product to reduce damage to the car.

Foldable and easy to store - made from light-weighted durable Aluminum Alloy. It assists you easily in fixing or fetching a Bike, Surfboard, or other Bulky Travel Items on a car rooftop/ rack.

The product has a safe and concealed blade. In special cases, you can cut the seat belt to escape.

It can be used as a non-slip baffle for cars.
SPECIFICATIONS
Material: The best quality aluminum Alloy
Max Load: 400 pounds and more
Weight: 250g
Color: black
PACKAGE INCLUDES
1 x Multifunction Folding Auto Car Door Step