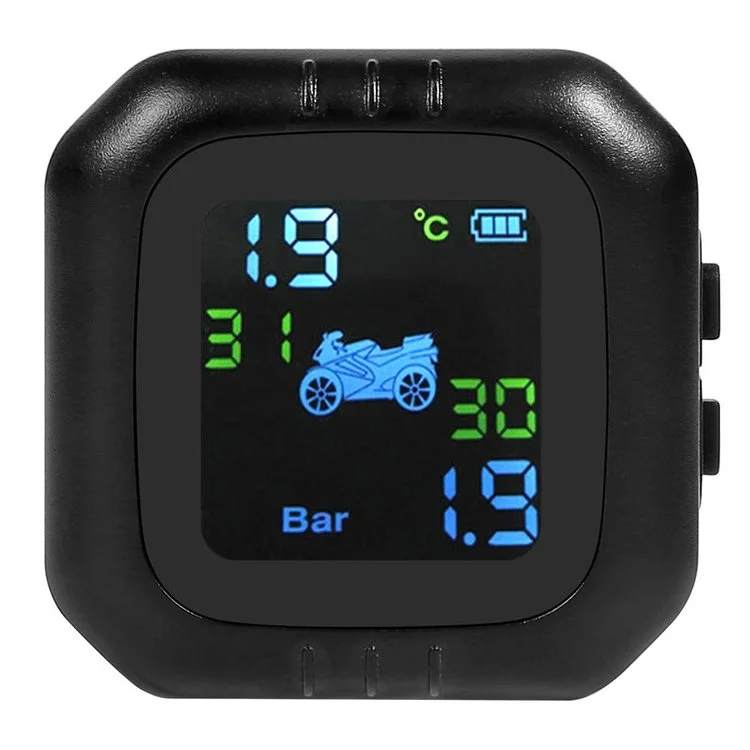 Tire pressure monitoring system, this system is designed to provide you when driving, it will warn the car tire condition in advance.
Installing TPMS, the system can monitor the pressure and temperature of tires in real time. If abnormal tire pressure and temperature are detected, the system will send warning sound and flashing ICONS to inform the driver in real time.
Real time reminder and problem handling can not only avoid traffic accidents but also ensure the safety of drivers and passengers
Specifications
Host technical parameters
Working temperature: 20℃~80℃
Storage temperature: -30℃~85℃
Power supply voltage: DC 5V
Frequency: 433.92MHz ± 20.00MHz
Sensor parameters
Working temperature: -20℃~80℃
Storage temperature: -30℃~85℃
Pressure range: 0 ~ 6.6Bar
Pressure accuracy: +/-0.1Bar
Accurate temperature: +/-3℃
Emission power: < 10dB
Frequency: 433.92 MHz + / - 20.00 MHz
Installation instruction
Unscrew 2 screws and fasten them on motorcycle/electric vehicle/bicycle;
Install the bracket firmly at the position you need;
Install the bracket on the tire pressure receiver, tighten and lock it;
Adjust the appropriate Angle by the ball head rotates;
Package Included
1 X Host
1 X USB
1 X Bracket
2 X Sensors
1 X Parts Package
Note
The product has been optimally configured before we send it from the factory, so it can be used directly when you receive it. It is not recommended to set up the product before you can use it skilled.
Please allow 0.5-1 inch difference due to manual measurement.(1inch=2.54cm)
We provide clear pictures, measurements where possible. Please check as much as possible to make sure the item is the one that you need.