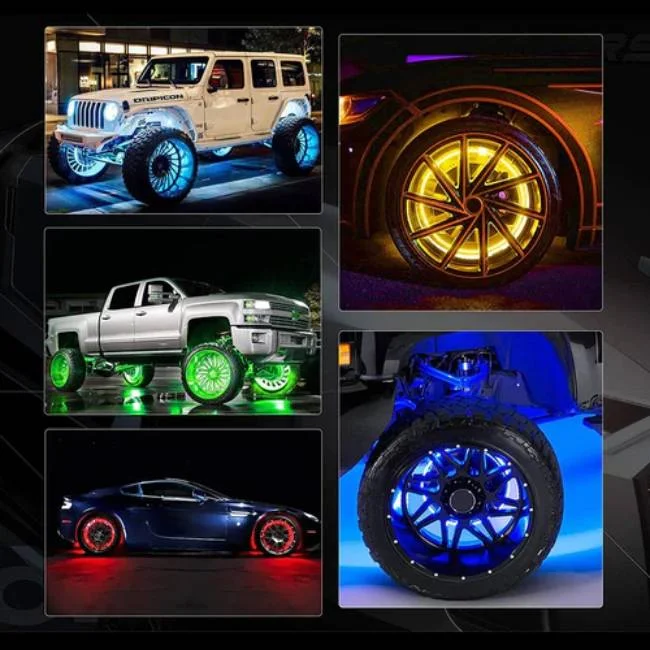 Garlaven's LED Wheel Ring Light Kits revolutionize the look of your car or truck with powerful SMD LED lighting and innovative lighting effects which combine to create a completely transformed look for your vehicle's rims.

This kit features 4 ultra-bright 5050 SMD LED wheel ring lights that install directly to the dust shield or hub assembly, allowing them to shine through your wheel with a unique and radiant glow. These SMD LED rings are manufactured from rust-resistant aluminum and measure at 1/8" thickness, resulting in a durable and resilient design. The included control box features 18 solid colors, 5 flashing, 5 scanning, 5 chasing modes, and 5 sound-activated modes, along with a color cycle and million color fade modes.
Garlaven's Million Color feature lets you experience a nearly unlimited number of variations in the shading of each solid color to create a completely unique look and feel for your wheel ring lights. The control box also easily connects to any 12-volt power source and features 13' of power and ground wires and a 5 amp fuse for circuit protection.

Garlaven's LED Wheel Ring Light Kit is the ultimate kit for your car or truck's rims with its visually dazzling SMD LED lighting and diverse set of patterns and features. This comprehensive kit also comes with everything required for installation. Garlaven streamlines the installation process with detailed instructions, an installation guide, and installation videos to walk you through it step-by-step.
Measure your car or truck's brake assembly and wheels in advance to confirm they are compatible with the specs of these wheel ring lights. This Garlaven kit is sized to match the wheel diameter and brake assembly diameter of your front and back wheels, and you can measure those respective diameters on both your front and back wheels to confirm the dimensions. These Wheel Ring Lights are designed for wheel tires with a diameter of 20'' or larger and a brake assembly size with a diameter of 15''/17'' or smaller.
Specification:
Brand:

Garlaven
Color: Multi-Color
Item Weight: 8.15 pounds
LED Wheel Ring Light Size: 15.5" Diameter
Fits Wheels: Smaller than 15.5 inch
Power consumption: 6W per turn, full RGB
Input voltage: 12V
Sensor input voltage: 12V
Reverse protection: Yes.
Transient voltage suppression: Yes.
Feature
Aluminum Wheel Light
288pcs Ultra-Bright Wide Angle SMD LEDs
Million Color Dream Control Box
Universal Fit for different Wheel of Vehicle
Durable Silicon tube with waterproof Play & Plug

Package Included
4 x Aluminum Waterproof Wheel Rings Light Strips with Wiring Hardness
1 x LED Music Bluetooth & IR RGB Controller
1 x One to Four Control Wiring Hardness
48 x Installation Screws
4 x Lamp Ring Size Fixed Buckle
16 x Brackets
1 x Extension Cable
1 x DC Cable