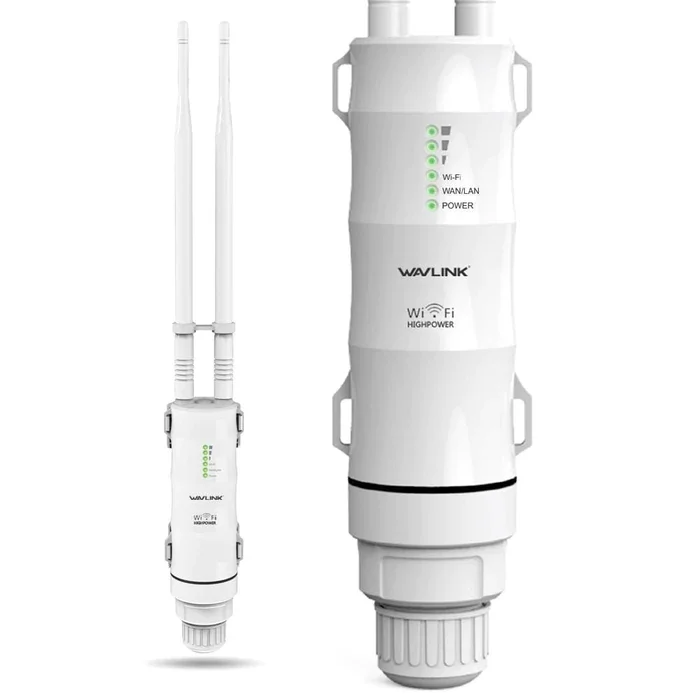 Features and specifications:
Key features:
Weatherproof enclosure with IP65 certification: Waterproof and dustproof enclosure and high-temperature durability material protect it against harsh outdoor conditions
15KV ESD protection: Built-in ESD protection circuit prevents damage from high electrostatic voltages and ensures reliable operation
4KV lightning protection: Built-in lightning protection prevents storm/lightning surges
Flexible installation with Power over Ethernet (PoE): The PoE power supply simplifies the setup by combining your power and data connection into a single cable. The DC adapter provides power and network access through your home/business router or network connection and combines them into a single RJ-45 connection. This makes outdoor deployment simple and fast.
Specifications:
Operating temperature: -30 ~ 70°C (-22 ~158°F)
Storage temperature: -40 ~ 70°C (-40 ~ 158°F)
Voltage: 100 – 240 V
Support 2.4 GHz
Standard: 802.11b/g/n
Maximum WLAN security with WPA2, WPA, and WEP (128/64)
Professional outdoor design
A weatherproof enclosure together with 15KV ESD provides a stable connection in harsh conditions.
N300 high-power outdoor Wi-Fi repeater
For outdoor wireless network applications
Omnidirectional outer detachable antenna
Easy carrying and installation
Flexible
Flexible installation with Power over Ethernet (PoE)
Three different modes
WISP mode
Repeater mode
Router/AP mode
Installation instructions
RI45 cable pass through the bottom spiral cover
RJ45 cable pass through the rubber seal
RJ45 cable pass through the upper spiral cover
Connect the RJ45 cable to RJ45 port
Screw up the upper spiral cover
Plug the rubber seal to upper spiral cover
Screw up the bottom spiral cover
Special outdoor design
Eliminates Wi-Fi dead zones

With Modem Function: No
Type: Wireless
Wired Transfer Rate: 10/100Mbps
WAN Ports: 1 x10/100Mbps
Number of USB Interfaces: None
Wi-Fi Supported Frequency: 2.4G
5G Wi-Fi Transmission Rate: None
Package: Yes
Supports WDS: Yes
Max. LAN Data Rate: 300Mbps
Model Number: WLAliE2C-WN570HN2
Standards And Protocols: Wi-Fi 802.11b, Standards And Protocols: Wi-Fi 802.11g
Standards And Protocols: Wi-Fi 802.11n
Wi-Fi Transmission Standard: 802.11b
2.4G Wi-Fi Transmission Rate: 300 Mbps
LAN Ports: 1
Supports WPS: Yes
Function: Firewall
Application: home
Color: White
Voltage: 100-240V
Standard: 802.11b/g/n
Max. LAN Data Rate: 300Mbs
Plug: EU/US/UK
Product: WI-FI Repeater
Type: Extender