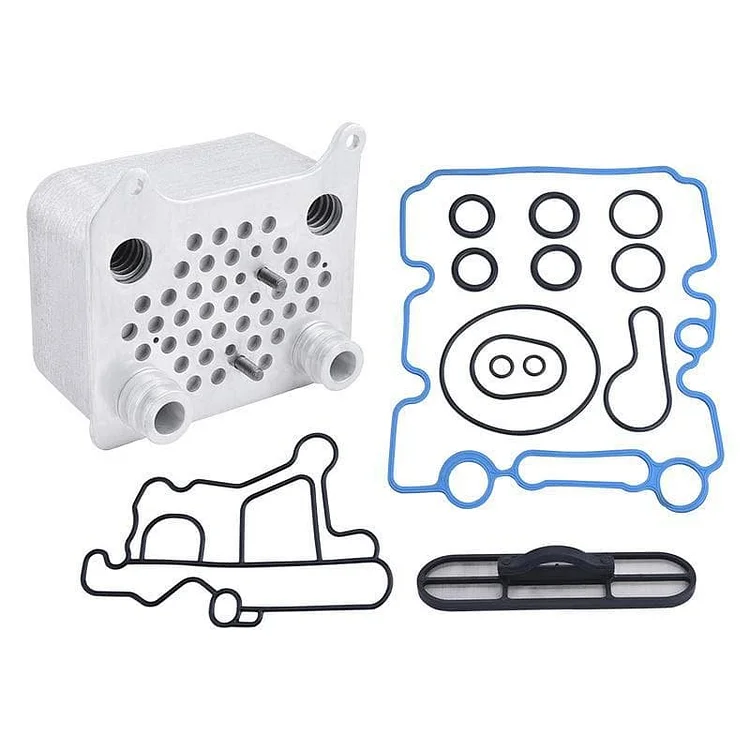 If you are noticing engine oil in your coolant system, oil or coolant leaking from the oil cooler or engine coolant mixed with your engine oil then your oil cooler might need to be looked at or replaced. This engine oil cooler kit also includes viton gasket seals needed for the proper service on your vehicle.

Details and Specifications:
Weight: 2000g
OE:3C3Z 6A642 CA, 904-228, 015339, OCK388

Fitment:
2004-2005 Ford E-350 Club Wagon
2004-2010 Ford E-350 Super Duty
2004-2007 Ford E-450 Super Duty
2003-2005 Ford Excursion
2003-2007 Ford F-250 Super Duty
2003-2007 Ford F-350 Super Duty
2003-2007 Ford F-450 Super Duty
2003-2007 Ford F-550 Super Duty
Feature:
100% New
The high flow oil coolers have enlarged internal coolant passageways to help prevent clogging from casting sand and silicates the 6.0L engines suffer from.
Upgrade material - Uneasy to leak, long service life and good performance.

Fix Your Powerstroke Vehicle and Restore Driveability
The engine oil cooler is a heat exchanger which is commonly a radiator type of cooler which cools engine oil from the engine. It removes excess heat from the oil using the engine coolant that flows around as the engine oil passes through the cooler.

When the engine cooler fails or leaks your coolant may mix with the oil and experience overheating and loss of pressure and power in your engine. By replacing the engine oil cooler with this kit you can eliminate these issues.

Package Including:
Oil Cooler
Gasket seals
O-rings
Filter

Note:
Professional Installation is Highly Recommended
Installation Instruction is NOT Included