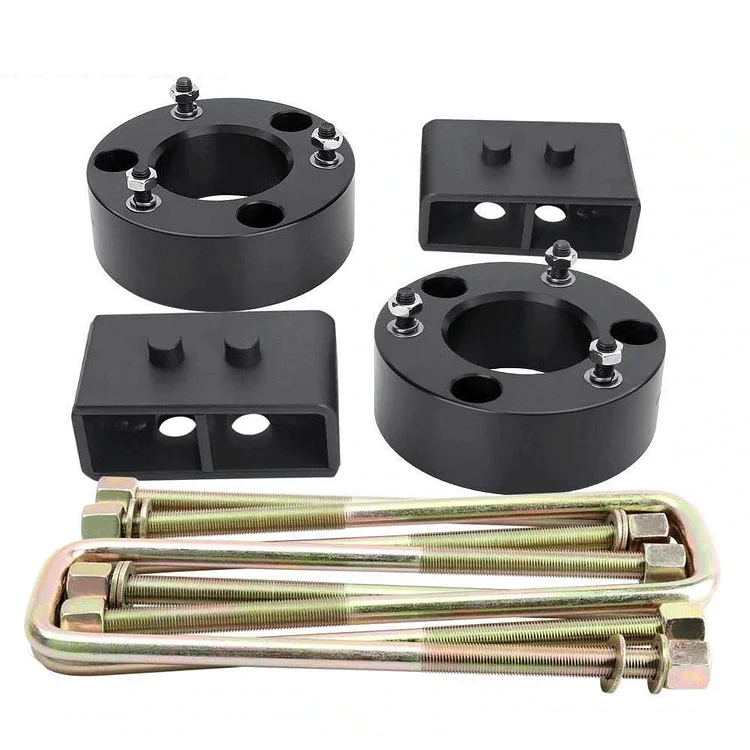 Kit include:
2 x Front Lift Billet Spacers.
4 Zinc Plated U-bolts
2 x Fabricated Steel Tapered Rear Lift Blocks.
Fitment:
Ford
2004-2020 FORD F150 2WD/4WD
Rear Block is 3'' thickness
2004-2020 2WD has NO stock block, it will provide additional 3'' lift.
2004-2008 4WD has 2'' stock block, it will provide 1" additional lift.
2009-2020 4WD has 1.5 stock block, it will provide additional 1.5'' lift

Special Design:
【Black Powder Coated】
The surface of leveling block is coated with black powder for stronger rust resistance, more beautiful and clean. And the width of block is closed to leaf spring, with larger contact surface and better stress uniformity.
【Cross Gusset Plate Locked】
The Cross Gusset Plate Locked design of the rear lift block, ensuring stronger support than others.
【10.9 Grades】
The leaf springs U bolts is Longer than original bolts with 10.9 grades and 9/16 thread pitch, more suitable for tuner;If they are too long, you can cut them as needed.

IMPORTANT NOTES:
★An alignment is always recommended if you are altering the height of your vehicle.
★Please remember to double check all fittings for tightness before operating vehicle.