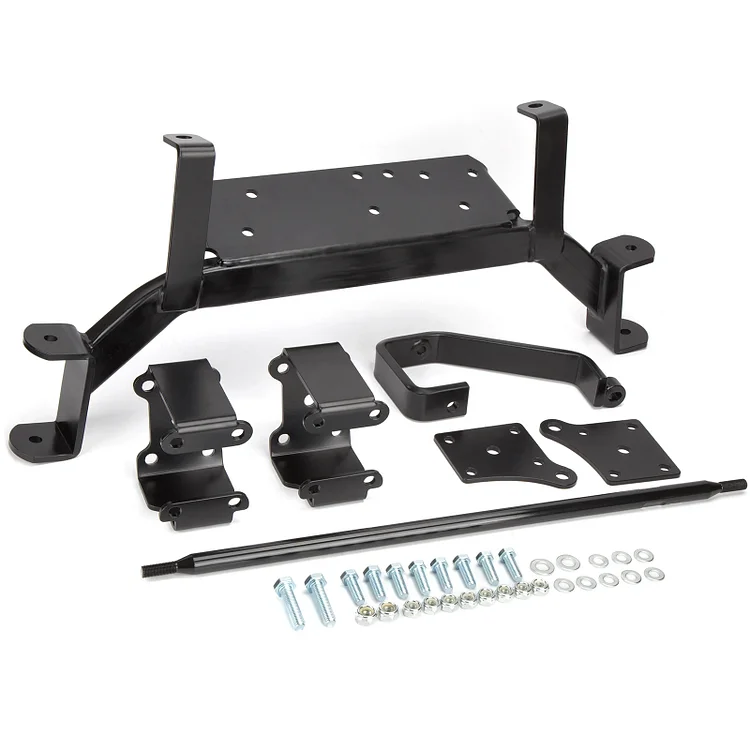 🚗Fitment:
2001.5-2022 EZGO Golf Cart Electric TXT Model
THIS LIFT KIT CANNOT BE MOUNTED ON RXV MODEL GOLF CARTS
🚗Features:
Will Raise the Front and rear of your EZGO Golf Cart 6". Allowing to replace maximum 23".

Made of best quality thick carbon steel, equipped with high-strength bolts.

CNC-laser cutting technology makes the holes high matching with the original car positions.

Bolt-on application. Just follow the installation guide. No need to drill extra holes or cut the fatory parts. Only need to enlarged hole when install the "C"brackets.

Instructions included
6" Front and rear lift kit for 2001.5-2022 EZGO Golf Cartare made of Machine-manufactured high-quality thicker steel to match your factory suspension.
It will come to you complete with all the hardware and clear instructions.Can be installed in about 1 1/2- 2 hours and does not require any special tools.
Performance ATV Lift Kits: All of the hardwares use premium steel, not easy to strip.Product safety is greatly improved.
Black Powder coated not easy to corrosion and rust, can extended service life and it can improve your lifted Can-Am Commander suspension travel and performance,Gives your ATV/UTV a noticeably aggressive
Performance's Lift Kits have a good quality ,we can provide lifetime warranty and 100% satisfaction guarantee.
Notice: Our lift kit does not include the U-bolts because we equipped the U-bend brackets. Please mounting and fixing with the original u bolts.Please read the instructions carefully before installation. It will help you perfect installation and use.
2001 EZGO Golf Cart
2002 EZGO Golf Cart
2003 EZGO Golf Cart
2004 EZGO Golf Cart
2005 EZGO Golf Cart
2006 EZGO Golf Cart
2007 EZGO Golf Cart
2008 EZGO Golf Cart
2009 EZGO Golf Cart
2010 EZGO Golf Cart
2011 EZGO Golf Cart
2012 EZGO Golf Cart
2013 EZGO Golf Cart
2014 EZGO Golf Cart
2015 EZGO Golf Cart
2016 EZGO Golf Cart
2017 EZGO Golf Cart
2018 EZGO Golf Cart
2019 EZGO Golf Cart
2020 EZGO Golf Cart
2021 EZGO Golf Cart
2022 EZGO Golf Cart