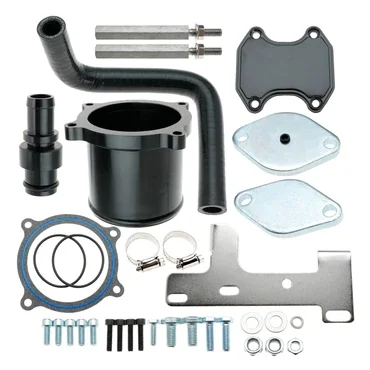 SIMPLE AND RUDE
: Completely replace EGR Valve & EGR Cooler, No other parts required for installation.
ULTRA HIGH STANDARD
: This kit meets or exceeds OE standard quality and performance requirements
POWERFUL FUNCTION
: Coolant temperatures run cooler because they are not running thru EGR Cooler.
Eliminates soot build-up and clogged EGR Valves. Hot exhaust gasses are not being re-routed back into the motor.
FINE ACCESSORIES
:
1 X Coolant Hose Connector
1 X Intake Block Off Plate
1 X Support Bracket
1 X Coolant Hose
2 X Bolts - M10
2 X Hose Clamps
4 X Bolts - M8x1.25x20
1 X Flange Nut - M10
1 X Stand-Off Bolt
1 X Bolt -1/4'' - 20
1 X Nut - 1/4'' - 20
1 X Lock Washer - 1/4'' - 20
1 X Bolt - 5 - 16''
1 X Nut - 5 -16''
1 X Flat Washer
Details:
Item Type
: EGR Cooler Throttle Valve
Material
: Aluminum Alloy
Weight
: 2500g/5.52 pounds
Fitment
: Dodge Ram
Package Dimensions
: 15.3 x 6.1 x 4.5 inches
Package Contents
:
1 x EGR Cooler Throttle Valve Set