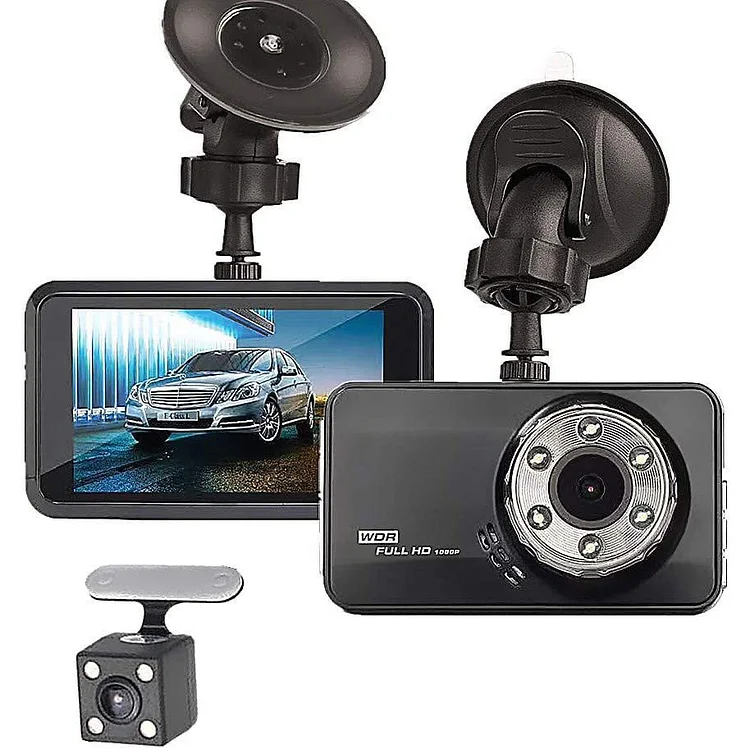 1080P FULL HD DASHCAM - Recording with super high resolution 1920*1080 30FPS, the front, and rear camera simultaneously capture the road in crystal details. Full HD lens and 3" large LCD screen deliver clearer videos and images and replay the key moment even when high-speed driving.
170° SUPER WIDE ANGLE - Ultra-wide field of view reduces the blind spots and captures more details, to reserve the real scene. The ultra-wide-angle lens technology allows you to see and record everything in striking high definition, day or night.
LOOP RECORDING - The loop recording feature ensures that your dashcam is always recording, with no seconds lost. Once the card fills up, the camera writes over old video. This dashboard camera supports up to 128GB of micro SD card (card not included in the package).
EMERGENCY ACCIDENT LOCK - With the built-in G-sensor, the camera will automatically lock the current video when it detects shake or collision, which won't be overwritten by the loop recording. Thus preventing any overwriting and thereby protecting your video evidence.
EASY INSTALLATION - This camera is easy to install and simple to operate. Detailed instructions are included in the package together with the hard-wire kit. The vehicle hard-wire kit connected to car battery or fuse box power, can realize continuous power supply for 24 hours. It can keep powered on even when the car is turned off.


Package Size: 7.08" x 4.72" x 3.54"
Weight: 1.10 Lbs