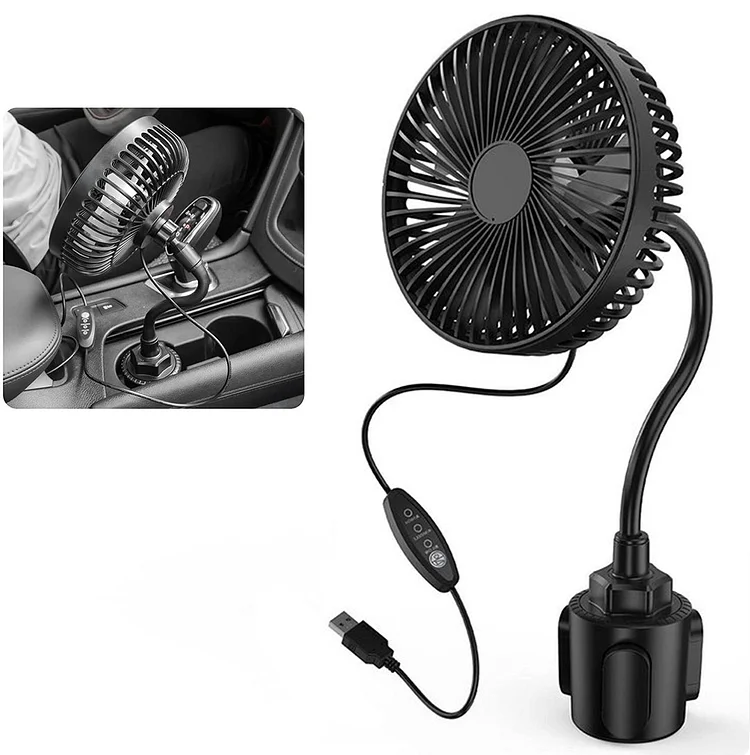 Innovative design
Car Cup Holder Fan is an innovative vehicle-mounted air fan for all car models with a cup holder. Quick and easy installation in seconds.
Powerful & Quiet
Equipped with a brushless motor, The Car Cup Holder Fan can deliver strong wind with low energy consumption and noise.
3-speed options to choose from for different occasions.
The airflow could reach 2053 rpm or 6 ft/s at the highest level, keeping you cool without noise disturbing.
360° Rotation
The gooseneck is made of thick aluminum and wrapped with PVC rubber, offering moderate hardness to freely end and enough support for the fan head. With an omnidirectional socket, the fan head can 360° rotate, making sure it blows to where you want the most.
USB Powered
You don't need a battery. The Car Cup Holder Fan is USB powered. It works with car chargers, power banks, or any USB-enabled power source.
The Car Cup Holder Fan is much safer than battery-operated fans which are flammable and explosive at high temperatures.
Just plug in and enjoy the coolness in the hot summer season.
Compact & Portable
The Car Cup Holder Fan has a compact design to fit all kinds of vehicles without taking too much space.
It's great for cars, trucks, SUVs, RVs, and sedans.
Weighs only 0.9 lb. (426g), and it is lightweight and portable for easy transport.
The best addition and alternative to your air conditioner this summer!