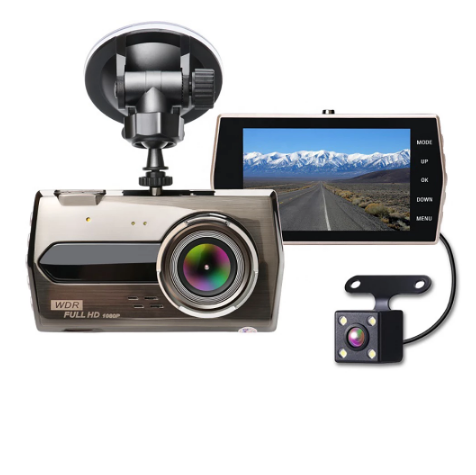 Camera For Car Full HD 1080P Recorder 24H Parking Monitor Car Dashboard Camera Night Vision
Keeping a record of what you see from your vehicle is one of the best ways to support you in case of any unforeseen event that you may witness or suffer during your travels in the car. For this you need to have a camera for car which is responsible for recording at all times the things you find and observe. In this way, you will always have evidence of the arguments you present to the authorities, and perhaps a funny memory.
For its part, this dashboard cam offers a wide range of vision, which captures with a quality of 1080P full HD, and with a good amount of frames per second. In addition, it has a wide variety of functions, making it a truly complete car dashboard camera, capable of offering you the best sharpness at all times, as well as resources in unfortunate situations. Finally, its waterproof capabilities are worth mentioning.
Dashboard cam features
1080P Full HD 4.0 inches screen
Front 170° wide view angle
Functions supported include Motion detection, time synchronization, night vision, loop recording, G-Sensor, motion detection, etc
Easy installation
Waterproof

Specifications
Screen: 4.0 inches HD screen
Lens: 170° high-resolution wide-angle lens
Resolution: 1920 x 1080 (30fps/s)
Pixels: 500 mega
Video format: AVI
Photo format: JPEG
G-sensor: Built-in 3 Axis (Emergency save, would not be deleted)
Loop recording: Seamless loop recording, do not miss one second
Memory card: TF card (Max. 32GB)
Microphone: Built-in
Interface: AV-OUT/USB
Current frequency: 50HZ/60HZ

FAQ
Does it use a battery or a capacitor?
It uses a car charger, which acts as a capacitor.
How does it work when recording at night?
It does so excellently, with an equally crisp and smooth image.
Does it work without Wi-Fi?
Sure, Wi-Fi is not needed at all.
Can it support a TF card larger than 32GB?
No, it cannot. In this case, it won't recognize the card.
How long do the recordings last?
They will last as long as the installed TF card will support, so the duration will tend to vary depending on the TF card. Even so, the camera has Loop Recording, overwriting the contained recording with the most recent one. In other words, the recording is constantly erased while it is automatically updated.
Package includes:
1 car dashboard camera
1 mount
1 car charger
1 user manual