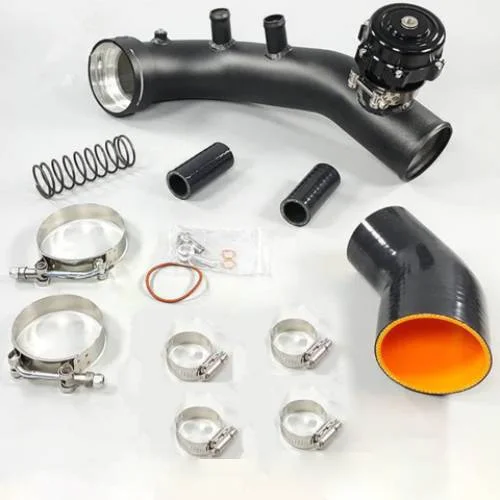 Flow Intake Pipe Kit Tial Flange 50mm Bov For BMW N54 E88 E90 E92 E93 135i 335i
Feature
The N54/N55 aluminum replacement chargepipe is a great high quality low cost upgrade to your flimsy factory plastic chargepipe.
The piping is 3" throughout preventing any possible flow restriction, the throttle body flange is CNC machined for a factory fit, and the aluminum piping powder coated black for a great looking and long lasting finish.
Each pipe includes dual 1/8" NPT bungs, high pressure t-bolt clamps, and all hardware required for installation. This is simply the best value for stronger N54/N55 chargepipes out there.
E chassis N54 and N55 only. Does not fit F chassis N55. Comes with TiAL Replica BOV (With Logo) and ALL Hardware necessary for installation.
Fit for
BMW 1 Series
• 2008-2010 E82 Coupe 135i
• 2008-2010 E88 Convertible 135i
• 2011-2013 1M Coupe
E Chassis BMW 3 Series
• 2006-2010 E90 Sedan 335i / 335ix
• 2006-2010 E91 Touring 335i / 335ix
• 2006-2010 E92 Coupe 335i / 335ix
• 2006-2010 E93 Convertible 335i / 335ix
• 2011-2013 E92 Coupe 335is