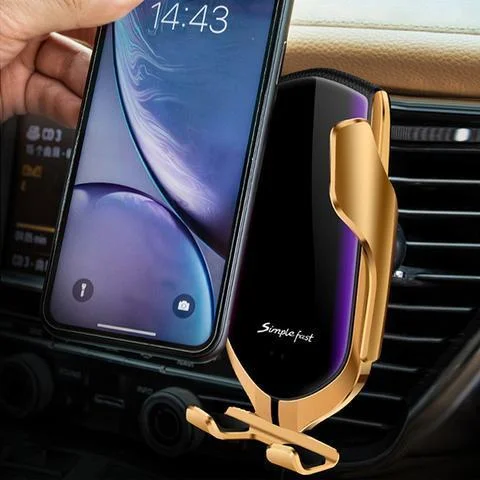 Are you tired of holding your phone while driving and want a safe solution? Does your phone always have a low battery and you have to look for a charger everywhere? Or is your current mobile phone holder blocking the view of the road?
Our automatic wireless charging car phone stand will change your driving experience forever. Automatic sensor clips, fast wireless charging, and 360-degree mobility are just some of the features offered by our premium mobile phone holders. Extremely safe and reliable.
Say hello to the car phone seat wireless car charger, it will solve all your driving problems
Feature
Intelligent automatic clamping
Built-in advanced wireless automatic sensor, equipped with infrared sensing technology. Automatically open and clamped, can be operated with one hand, making everything more convenient.
One-handed operation
You can operate with one hand. It's super simple and has no trouble. When you place the phone on the stand, it will hug your device firmly.
Fast wireless charging
Wireless 10W fast charging-Provides faster-charging speeds than almost all car chargers on the market. With a 4th generation integrated coil and comprehensive safety control, chip-it has temperature control, over current protection, and short circuit protection.
Fully 360 degrees adjustable
An adjustable rotating ball can achieve 360-degree rotation. We make it rotatable for ease of use and safe driving. Now, you will no longer have to try to reach for a ride, distracted by holding the phone or looking for it while driving.
Double-bending design, anti-scratch and non-slip silicone bottom pad to ensure firm and safe
Maximum stability
Even if your car shakes violently, such as under sudden braking, bumpy roads, off-road, or emergency acceleration, the phone will remain safe and will not fall, thanks to the clip on the exhaust clip that you can tighten. need.
exhaust vent
It can be connected to vents of almost any size and shape. Compared with windshield fixings, exhaust hole fixings are easier to obtain and do not distract when driving. No tools required
compatibility
All smartphones are generally owned. iPhone wireless charging phone holder, android, and all other mobile phone manufacturers. Wireless charging is suitable for Qi-enabled fast charging devices. Support iPhone 11 / Xs / Max / X / XR / 8/8 Plus, Samsung Galaxy Note 10 / S9 / S9 + / S8 / S8 + / S7 / S6 Edge series and all mobile phones that support wireless charging, accounting for 99% of all mobile phones % Modern day.
The package includes
1 x Auto-clamp wireless charging car phone stand
1 x USB cable
1 x user manual