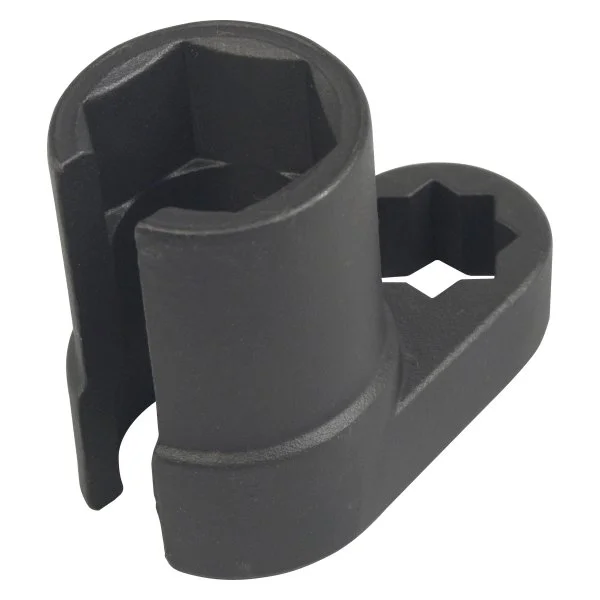 Universal 7/8" Offset O2 Sensor Socket. Make servicing your vehicle's exhaust system fast and easy with this handy tool. It will help you keep your exhaust working as it should. Thanks to its thought-out design, this tool provides the ultimate blend of convenience, functionality, and dependability. Made from top-grade materials for strength and durability, this quality exhaust system service tool is bound to provide you with many years of trouble-free operation.
Specifications
Socket Size: 7/8" (22 mm)
Drive Size: 1/2"
Features
Superior solution for your exhaust system service needs
Perfect for use by seasoned technicians and weekend garage enthusiasts
It will help ensure your vehicle's exhaust performs reliably and safely
Manufactured to deliver consistent, worry-free performance
Quality construction built to last for many years to come
Designed to meet or exceed your high requirements
An exhaust system is one of the most important parts of your vehicle. It's responsible for exhaust gas extraction that starts at the engine's cylinders and extends to the rear where the emissions can be safely exhausted out of the vehicle. This helps prevent dangerous gasses created during the combustion process to affect you and your passengers as well as reduces the levels of harmful pollutants. So, you should service maintain your exhaust in tip-top shape to keep riding safely and keep emissions under control. If you need a reliable exhaust system service solution to get the job done right, look no further than this handy tool.
Whether you're a pro or "wannabe" weekend mechanic, this easy-to-use and the functional tool is a perfect add-on to your toolbox. Designed with quality and precision in mind, this top-notch product will come in handy to ensure that your exhaust system performs at its best, which is essential for your vehicle's overall dependability and well-being. Manufactured using the finest materials to last for many years, this tool delivers superior quality, functionality, reliability, and value. Built to meet your exhaust service needs, it delivers the ultimate combination of ease of use, dependable performance, and long-lasting service. Get confidence in your ride with this premium tool that will help make exhaust service quick, easy, and reliable.