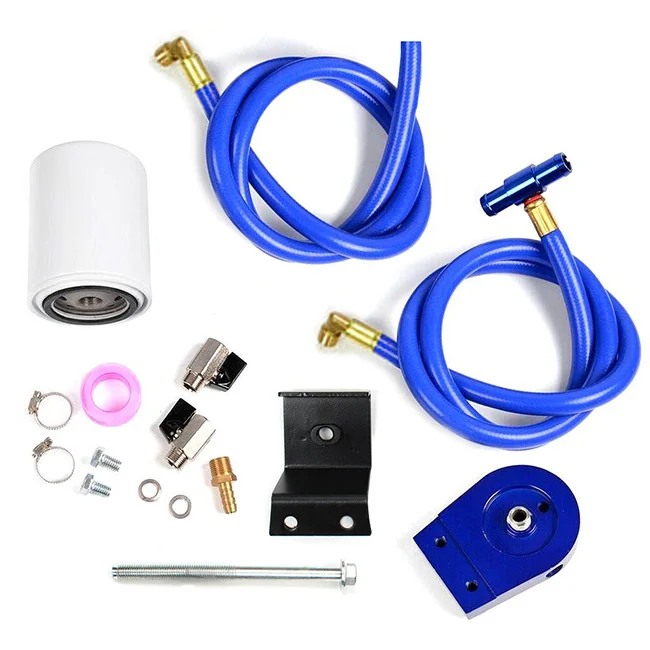 About
This 5.9 Cummins coolant filtration kit is designed to filter solid particles from your truck's coolant.
Contaminants such as casting sand and sediment are known to damage many components in your cooling system. By removing these contaminants you are able to extend the life of your coolant, water pump, EGR cooler, and other vital components.
This 5.9 Cummins coolant filtration system does not require any modification to your factory hoses. Our pre-assembled, high-quality silicone hoses simplify the install and provided a clean finished look without using multiple ugly hose clamps.
The included ball valves are extremely helpful for minimizing coolant loss during filter changes and also provide a shut-off to bypass the system should you ever need it. This system is built around an easy to find parts store filter and can be installed in no time with basic hand tools.
Features
Billet CNC Machined Anodized Filter Base
Non-Charged, Chemical Free Coolant Filter
Supply Hose Assembly with Ball Valve
Return Hose Assembly with Ball Valve
3/4" Heater Supply Hose & Clamps
Fitments
2003-2007 DODGE RAM 2500 5.9 CUMMINS DIESEL TURBO
2003-2007 DODGE RAM 3500 5.9 CUMMINS DIESEL TURBO
Item Includes
Coolant Filter
Size 8 Hose Clamps
1/4 Turn Ball Valves
Coolant Filter Bracket
Coolant Filter Block
5/16" Square Stud
3/8" Hex Head Bolts
3/8" Lock Washers
2 Coolant Lines with Fittings
1 Roll of Thread Seal Tape