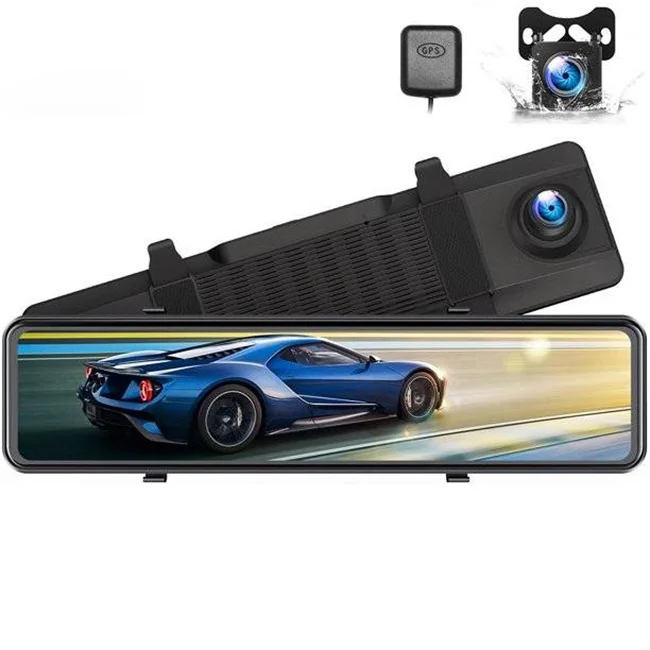 The Gmcoo1 4K Dash Cam will give you a new visual experience.
Features
Voice Control Commands
The car camera with voice commands to operate basic settings while driving, no need to touch the screen. You speak, listen, and follow your command, offering you a safer and more comfortable driving experience.
GPS Dash Cam with Speed
The extra GPS tracks real-time driving speed and location. You can read the current speed on the screen. Playback the recording on PC via GXplayer to check where the events happened and speed. Provide important evidence if needed.
Parking Assistant Easy Parking
After connecting the positive lead to the reversing light, parking guidelines will be activated when reversing, ensuring safe and convenient parking. You can see the parking line on the 12" screen, no need to install an extra monitor.
24/7 Parking Monitor
This mirror dashcam features intelligent parking mode, when the G-Sensor system detects a sudden shake or collision, the built-in G-sensor will trigger the car dashcam to record a 30s video and lock the video footage. Your safety is 24 hours under protection.
Super Night Vision Dash Cam
4K Sony sensor IMX415 on the front camera enhances night vision in low light or rainy conditions efficiently, giving you exceptionally sharp video clips at night. License plates in the distance that are unreadable in 1080P or other resolutions are very crisp in 4K video. Equipped with a Sony Starlight Starvis sensor and F1.8 large aperture 6-glass lens, this car camera can capture clearer and more detailed images at night with lower consumption. Evidence collection is guaranteed.
Safe Reversing Aid
When your car is put into reverse, the screen will automatically display the rearview with guidelines to help you to park safely. Adjust the reversing lines to the angle you want in the settings menu.
G-Sensor Lock
With G-sensor enabled, it will automatically lock current video during a collision and provide evidence for insurance and legal purposes.
Flexible Adjustments Screen
This rearview mirror camera is easy to operate by the touch screen. You can swipe the screen to adjust the view angle, and brightness, switch the front and rear camera, get into playback mode, etc.
12'' Large Screen Wider Angle View
The 12" IPS responsive touch screen mirror car camera offers a wider horizontal field of view than the 10" screen, which enables you to monitor more real-time traffic information on the road while driving. A wide-angle field of view reduces the blind spots and captures more details, to reserve the real scene and help eliminate the blind spots of your vision.
Screen Saver
With the screen saver function on, the screen will be off but the mirror camera keeps recording as normal, which let the driving attention will not be distracted.
Specifications
Dimensions: 11.2 x 2.8 x 0.6 inch
Unit Weight: 0.82 pounds
Front Camera Resolution: 4K
Backup Camera: 1920x1080P
Loop Recording: 1/3/5 mins
Parking Guard: Off/Low/Middle/High
Power Supply: DC 5V/3A
Storage: U3 or above Micro SD Card 16G-128G(not included)
What's in the box
1*Mirror Dash Cam
1*Backup Camera
1*Car Charger
1*GPS antenna
4*Cable Clamps
4* Rubber Straps
1*Easy Pry Tool