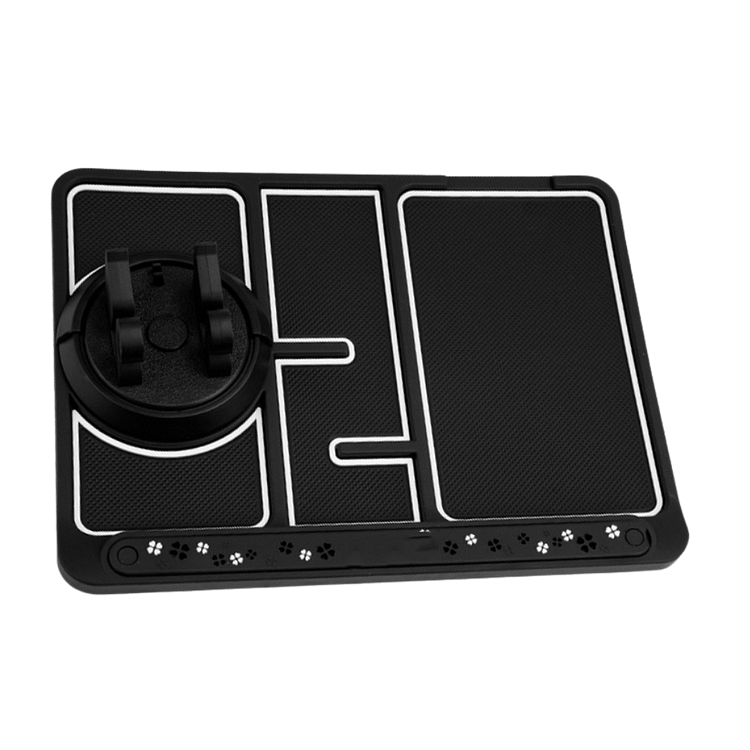 Keep Your Phone Safe While You're Driving, Make It Easier to Use and Enjoy the Perfect Blend of Functionality and Style with This 4-in-1 Phone Holder and Non-slip Pad for Your Car
Innovative

High-quality material

Built-in aromatherapy slot

Rotating phone holder

Glow-in-the-dark
Have you ever considered getting a non-slip holder for your phone? If you haven't, why not give it a try now? It is pretty useful, isn't it? You can place your phone almost anywhere you want in your car without it sliding around. A non-slip phone pad and holder is something you should consider buying particularly if you've got a pretty expensive phone. You wouldn't want that steep repair expense now, would you?

So, a non-slip phone holder all on its own is a pretty useful item to have. This particular non-slip holder, however, isn't just a regular phone holder. This pad boasts an innovative 4-in-1 design that makes it unique. This tidy, functional package features a GPS/phone holder, contact number display, aromatherapy slot and an anti-slip pad. So why settle for just one feature when you can have four? It's the perfect item to keep on your car's dashboard. It will also hold your keys, spare change, and any other bits and pieces you want easy access to.
Its practicality already makes the 4-in-1 non-slip pad a "must-have" item. Beyond that, however, its high-quality and durable build is another reason you should consider getting one for yourself. The non-slip pad is made of high-quality polyvinyl chloride (PVC). This PVC material allows the pad to be flexible and resistant to wear and abrasion. The pad is also oil resistant.

But that's not all; this non-slip pad is heat and cold resistant. What if it gets dirty? Not a problem! You can wash it in cold water too. This means you can use the pad continuously with no problems.
BUILT-IN AROMATHERAPY SLOT
How about a non-slip pad that also freshens up your car? Yeah, and just when you thought you'd seen it all. Along the edge of this anti-skid phone pad, you'll find an aromatherapy slot. All you have to do is insert your favourite aromatherapy stick (we've included two here). And voila! Fragrance heaven. The scent will diffuse throughout your car's interior, keeping the atmosphere fresh.

With one of these non-slip pads in your car, you won't even have to worry about getting an air freshener for your car. You're already covered!
360-DEGREE ROTATING PHONE HOLDER
Placing your phone at the particular angle you desire in your car can be quite challenging. You need to find a space that's big and tight enough to hold your phone firmly and keep it from falling. And then, once you find the "safe spot", there's still the matter of finding the perfect angle. The situation may be even more complicated if you need your phone to be upright or horizontal. Well, don't worry anymore. Why? The 4-in-1 anti-skid pad for your car can take care of that for you.

The non-slip pad has a 360-degree rotating phone holder. This rotating phone holder lets you safely place your phone either vertically or horizontally. You can also face it towards you or the passenger seat since it rotates. The phone holder is the perfect option to keep your phone safe at any angle you need.
Non-slip pads are not all that uncommon. Glow-in-the-dark non-slip pads, however, are not common at all. You guessed right, of course. This non-slip pad also glows in the dark. How? During the day, the anti-slip mat stores sunlight and then at night, it releases the stored light. This helps give your car that cool ambience.
1 x Non-Slip Phone Pad for car
2 x aromatherapy sticks