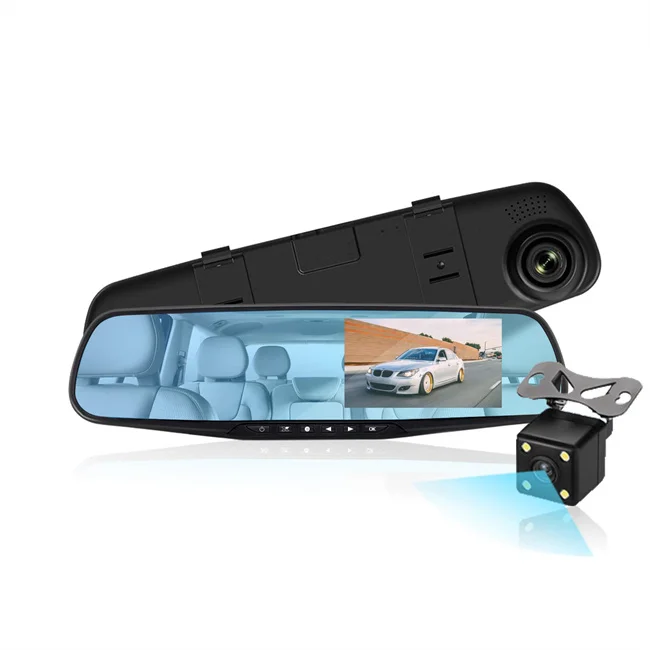 About 24h Monitoring
The DVR is only compatible with cars that have a 12V power supply. A 24V power supply will burn the motherboard. If you want to use 24V, please add a 24V to 12V Converter(BL).
About Video
Our Car DVR is FHD 1080P Video Recorder, must use a high-quality Class 10 TF Card, any low-quality/low-speed TF card can't support our DVRs work normally, if you can't make sure you have a good TF Card, please buy our Original TF Card together.
Specifications
Installation Type: Rearview Mirror, suitable for all vehicles with a mirror
Screen(Display) Size:4.3 Inch LCD Screen
Camera Sensor:Front 2MP + Rear 1MP
Camera Lens:Front + Rear; 6 Glass + 4 Glass; 170 Degree Angle + 120 Degree Angle; F2.2 Aperture + F2.2 Aperture
Video Resolution:Front: 1920*1080P@25FPS; Rear: 640*480P@25FPS
Photo Resolution:12M
Battery: Built-In (Built-in battery is very small, can not support working, only for saving time&setting, please use original power charger when working)
Basic Features: G-Sensor, Cycle Recording, Motion Detection, Parking Monitor, Time&Data Display, Wide Dynamic Range, Picture in picture display, ON/OFF Automatically
Memory Card: Micro SD Card, class 10 and 8GB to 32GB (Not included)
Rear Camera Upgrade: Support max 12 meters cable Rear Camera
Add Features: Night Vision, White Mirror, Blue Mirror
Packing List
1 x Packaging box
1 x DVR
1 x Power charger
1 x User manual
1 x Rearview Camera With 6 Meters Cable