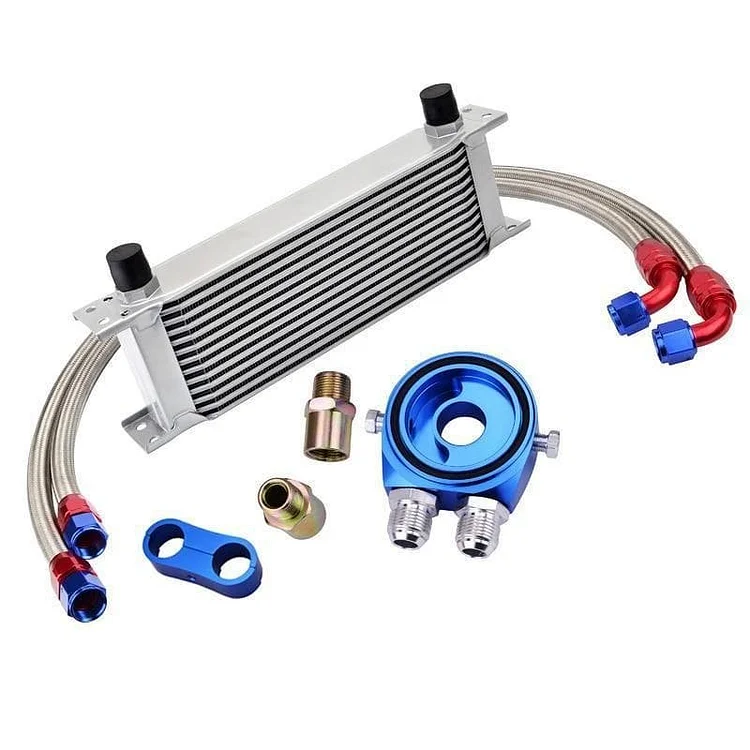 The 13-row oil cooler
basically likes a radiator to cool down your engine oil. Choose a reasonable spot to install. But they must be locations where there will be a good, cold airflow through the cooler. And please measure the size before purchase to ensure it can be installed.
Technical Details:
Item Weight: 2750g
Color: Silver
Inlet / Outlet Size: AN10

Made with High-Quality T-6061 Aluminum.
Potentially Reduces Oil Temperature up to 50°F.
Powder-Coated and Oxidized for Durability and Protection.
Excellent for Modified Street Vehicles, which are Driven Hardly with Minimal Track Use.
Oil Filter Adapter(3kinds Filter Adapter)
Center Adapter:M20 x 1.5 & 3/4 x 16 UNF Thread

Supports Oil Filters That Has M20 Thread & M20 Block Fitting.
It Mounts between the Block and oil Filter, provides in and out ports, with connectors that fit AN10 fitting.
Allows Installation of Larger Oil Filter.

Comes with 2 Oil Fuel Hose Lines(1.2M, 1M)With

AN10 Swivel Fitting Installed.

Made of High-Quality Lightweight Aluminum with CNC Laser Cut.
Oil Filter Relocation for Easier Access, a Must for Hard-To-Reach Oil Filters.
Increases Engine Oil Capacity Available; thus, Enhances Oil Lubrication and Protection of Engines.
Features:
Keep It Cool -

The SPELAB oil cooler ensures longer oil life by lowering the oil temperature to lubricate the engine better, preventing the oil from overheating and damage.
Reducing Coolant Temperature and Extends Engine Life.
1 × 3/4-16 Female Fitting

1 × M20XP 1.5 Female Fitting

1 × Oil Filter Adapter

1 × Aluminum Oil Cooler

1 × AN10 Separator Divider Clamp(blue or black at random)

2 × AN10 0 Degree Swivel Aluminum Hose End

2 × AN10 90 Degree Swivel Aluminum Hose End

2 × Braided Stainless Steel Hose Line (1M+1.2M)
Fitment:
Audi, All
Alfa Romeo 4 Cylinder 1972+
Alfa Romeo V6 GTV, Milano, 164,1981-1995
BMW, All
Chrysler V6, I6, L4, V8, 1959-2007
Dodge V10 Viper and Trucks, All
Dodge V8, 1960-2007
Dodge V6, 1993-2007
Dodge Avenger, Caravan, Stratus, 1996-2005
Dodge SRT10, Hemi, Charger, to 2006
Eagle Talon (Non-Turbo), 1989+
Eagle Vision, 1993+
Ferrari, All
Fiat, All over 900cc
Ford Germany, AIl
Ford V8, 1958+
Ford L6, 1958-1987
Ford V6 3.0L, 3.8L, SHO, 1987+
Ford I4 2.0L Contour, Focus, 1995+
Ford 14 1.6L, 1.9L, 2.0L, 2.3L, 1971+
Ford Truck V6 3.8L Windstar, 1996+
Ford Truck V6 4.0L, 1990+
Infiniti G20, 1991-1996
Infiniti J30, M30, Q45, 1990-1996
Jaguar x Type 2.5-3.0L, 2002-2006
Jeep V8, 1970-1986
Jeep V8 Grand Cherokee 1993+
Jeep I6, 1970-1990
Land Rover V8, All
Lexus LX450, 1996-1997
Lexus V6, I6, 1990+
Lexus LX470, RX300, 1998+
Lincoln V8 5.0L, 5.8L, 1977+
Lincoln V6, 1988+
Lotus. All 1971+
NOTE:
Please check the thread size of your filter and block whether it is M20 x 1.5 or 3/4 x 16 UNF before purchase.
Professional Installer is Highly Recommended (No Instruction Included)
All oil coolers are relatively fragile. Care must be taken to avoid stressing the fittings when tightening connections (always use a backup wrench on the cooler fitting). The cooler should be mounted in a manner that will minimize vibration.