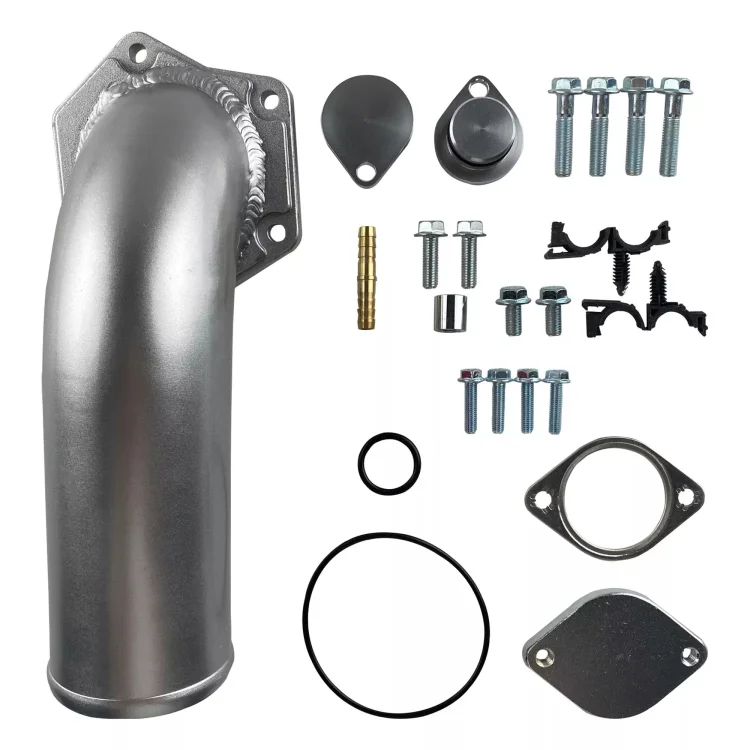 Due to insufficient materials, the blue model has been out of stock. If you place an order for the blue model, the black model will be issued, please know!
Detailed description
Material: aluminum alloy
Weight: 1190g
Equipment: Ford Powerstroke 2008-2010 6.4L
Compatible engine: Ford 6.4L power stroke diesel
Type: Engine EGR valve removal kit
Product size: 1.97 inches * 5.9 inches * 1.97 inches
Color: Red/Black/Silver/Blue
Fitment
6.4 liters Powerstroke 2008-2010 F-250, F-350, F-450, and V8
Features
Application: The 6.4-liter Powerstroke cooler removal kit is designed for the 2008-2010 Ford Super Duty, replacing the stock EGR valve and cooler system, and also includes a high-flow aluminum intake bend for mandrel bending completed with high gloss FLASHARK powder Tube coating.
Function
This EGR removal kit and intake elbow kit can achieve faster turbine rotor, lower engine temperature, and more ground power, and increase Ford 6.4L by circulating engine coolant faster than ordinary EGR system The reliability of the power stroke engine.
It is used to reduce the temperature of the coolant and to ensure that the intake manifold is not affected by power predation, hot and smoky air.
Special note
Race adjustment must be carried out to prevent the engine check light from turning on.
Disclaimer
The Ford 6.4L EGR removal kit is dedicated to off-road use.
All DPF / EGR-OFF tuning products are strictly used for competition.
Not to be sold or used on any pollution-controlled vehicles in California.
According to the EPA's "Clean Air Act", they are illegally used on any federal, state, or local public highway, and they should be punished in accordance with the penalties established by the aforementioned laws.
Before buying, please check your local, state, and federal laws!
The package includes
1* Exhaust Block-Off Plate
1* Exhaust Gasket
2* Coolant Line Plugs with O-rings
1* Brass Barbed Hose Connector
1* Stand-Off Spacer
4* M8-1.25 x 40 Hex Head Bolts(Exhaust Manifold)
2* M8-1.25 x 25 Hex Head Bolts
2* M8-1.25 x 16 Hex Head Bolts
4* M6-1.25 x 25 Flanged Hex Head Bolts
2* Plastic Hose Routing Clips
1* Intake Elbow with O-ring