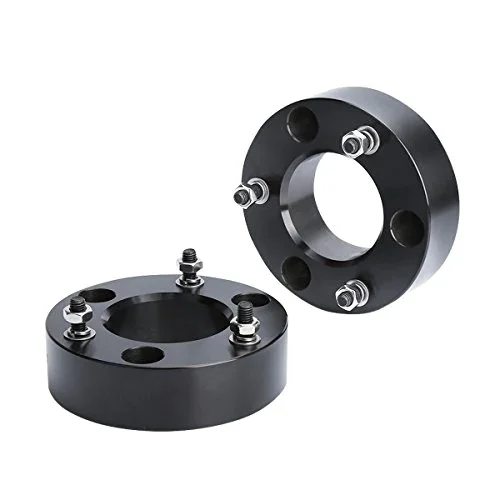 🚗Fitment:
2007-2020 Silverado 2WD/4WD

2007-2020 GMC Sierra 2WD/4WD (New Body Style) with 6 lugs

2007-2020 Yukon 2WD/4WD

2007-2020 Tahoe 2WD/4WD

2007-2020 Suburban 1500 2WD/4WD

2007-2013 Chevy Avalanche 2WD/4WD
🚗Features:
This Chevrolet Silverado 1500 GMC Sierra 1500 suspension lift kits provides a front 3" suspension lift

The Thickness is not equal to lift height

Forged billet aluminum, Precision CNC machined with T6 treated and anodized black

Maintain factory ride quality

12.9 Grade premium bolts

One Year Warranty

Instructions included

fits 3" Front leveling lift kit for 07-2020 GM1500 Pickup/SUV four /two wheel drive are Machine-manufactured precisely from 6061-T6 aircraft-grade aluminum billet to match you factory suspension.
It will come to you complete with all the hardware and clear instructions.Can be installed in about 1 1/2- 2 hours and does not require any special tools.

Performance Leveling Lift Kits are CNC machined out of billet aluminum and then anodized black to match you factory suspension which better than power coated.
The Anodized surface can provide additional resistance to corrosion and it can improve your lifted GM1500 Pickup/SUV suspension travel and performance,Gives your truck a noticeably aggressive.
2007 Silverado 2WD/4WD
2008 Silverado 2WD/4WD
2009 Silverado 2WD/4WD
2010 Silverado 2WD/4WD
2011 Silverado 2WD/4WD
2012 Silverado 2WD/4WD
2013 Silverado 2WD/4WD
2014 Silverado 2WD/4WD
2015 Silverado 2WD/4WD
2016 Silverado 2WD/4WD
2017 Silverado 2WD/4WD
2018 Silverado 2WD/4WD
2019 Silverado 2WD/4WD
2020 Silverado 2WD/4WD

2007 Sierra 2WD/4WD
2008 Sierra 2WD/4WD
2009 Sierra 2WD/4WD
2010 Sierra 2WD/4WD
2011 Sierra 2WD/4WD
2012 Sierra 2WD/4WD
2013 Sierra 2WD/4WD
2014 Sierra 2WD/4WD
2015 Sierra 2WD/4WD
2016 Sierra 2WD/4WD
2017 Sierra 2WD/4WD
2018 Sierra 2WD/4WD
2019 Sierra 2WD/4WD
2020 Sierra 2WD/4WD